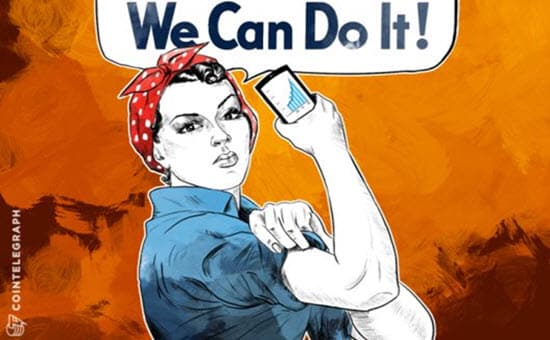 This is a guest post from Marguerite Arnold.
It is not just the stunning reversal of fortune for Hillary Clinton at the beginning of November which has stimulated a renewed interest in more diversity in the world of start-ups, and FinTech in particular. The conversation has been underway for quite some time.
Part of the drive for diversity, to be honest, is caused by a failure of women to rise to the top in most large businesses – including the financial services, banking or tech industries, despite a generation (at least) of trying. However, the focus on gender diversity remains, just about everywhere there is a budding FinTech start-up community. And a lot of the calls for diversity are coming from not "just" women, but men.
In Frankfurt Germany, this conversation is absolutely at the front and centre of just about every FinTech gathering right now. The Frankfurt "scene" is absolutely poised to break out on to the global stage, just because of the presence of so many highly educated, financially savvy people –from all over the world. But, as is painfully obvious, at gathering after gathering, except those ostensibly "for women", the faces are mostly white, and with very few exceptions, all male.
As a result, there is an increasingly dedicated push to change that and for reasons that extend far beyond "political correctness". This being Germany, there is a push to fill at least 30% of management boards with women as required by new German law that came into effect earlier in the year.
FinTech and Insuretech, in particular benefit hugely from the presence of women in senior positions for many reasons. The first is that the most successful companies in the sector succeed because they are able to define niche markets and reach them in new and often more efficient ways. While men are not incapable of figuring out how to do this, of course, having a different perspective, including unique experience and gender diversity along for the ride, is one way to succeed at this even better (no matter the community being targeted or service on offer). However, beyond service provision itself, the promise of encouraging more women to enter the FinTech industry is the new range of products their insights and experience have the potential to create. Even in the ostensibly "established" world of financial services and banking, the idea of a company (or companies) that provide services tailored to what women want is absolutely exciting. Beyond this, of course, is a wide range of products that interact with the consumer in different ways. Women play a huge role in helping to define the consumer experience – from the services themselves to how users interact with the interfaces.
As a result, there is actually no better time to be a woman in the world of start-ups. And the women who are, despite speaking and pitching to audiences still mostly made up of men , are also finding that for the first time there is a new acceptance and eager willingness to welcome them into the ranks of one of the most exciting industries on the planet right now.
You go girl!
Marguerite Arnold is an entrepreneur, author and third semester EMBA candidate at the Frankfurt School of Finance and Management.
(Image Source: Bridging the Gender Gap)