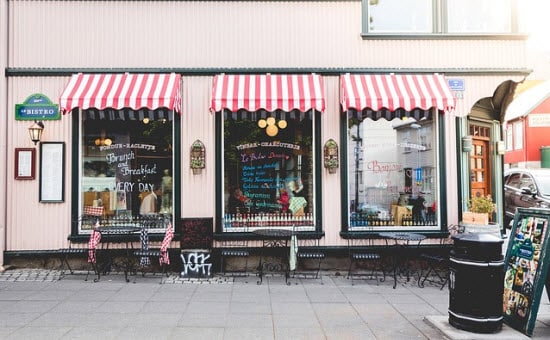 This is a guest post from Sarah Smith.
Savvy investors know that there is a lot of potential in converting abandoned or derelict spaces into lease-ready properties. Below are five (5) tips on converting a vacant spot into a high-revenue lease property.
1. Pop-Ups
This refers to taking a small vacant space and converting it into a restaurant or shop. These are great for:
Trial marketing a new brand, product, or testing out a new region
Selling seasonable items (e.g. Christmas, Halloween, etc)
Adding a bricks-and-mortar location to an existing online business
Showroom space
Establishing a permanent location for items previously sold at crafts fairs or festivals
2. Advertising and Marketing
It only takes a little imagination to realize that an empty shop window makes for a great spot to place advertising and marketing.
Likewise, blank walls on the side of a building can be a tremendously good location to place large ads or marketing messages. Blank walls and large open spaces are also wonderful locations for projection advertising and mixed media marketing messages.
3. Build a Pod
Vacant and underused office space is now becoming extremely popular as part of the "pod" or collaborative working space concept. Many small businesses refer to the acronym POD, Phone, Office, & Desk, being the minimal space necessary in order to work. Short-term leases and flexible arrangements can take a vacant office space and turn it into a cash cow.
4. Virtual Shop-Fronts
One of the most exciting new technologies to re-use spaces creatively is the idea of a 3-D virtual shop front. When applied to a vacant lot or empty space, a detailed 3-D image can be rendered, perfect for prospective clients who may be imagining how their business can make use of the location.
Besides just being appealing to prospective clients, virtual shop fronts are also useful in making abandoned or derelict properties look occupied, adding aesthetic appeal to the neighborhood and helping to minimize visual deterrents to leasing the property.
5. Re-Purposing Venues
Many of today's largest companies are looking for ways to stealthily guerilla market to certain demographics. You can take advantage of this by working with these companies to re-purpose abandoned properties as pop-up venues for their latest marketing idea or branded activity.
Another way to create revenue from blighted areas is to work in conjunction with local authorities to host festivals, fairs, and other celebrations. By adding pop-up attractions to your property, you can increase foot traffic to the area, benefiting local businesses and attracting potential long-term clients.
Successful event planners are always looking for new and exciting venues to stage their activities. Whether repurposed for a fashion show, art exhibition, festival, or music concert, your previously low-value property may be able to command a high price.
Sarah is a small business owner, and is currently learning about marketing, using the internet. Aside from working on her own business, she likes to use social media, and read travel books.