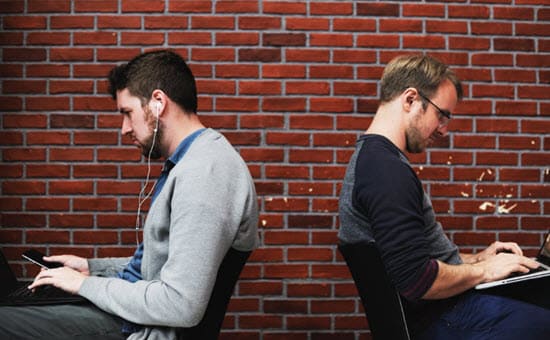 I spend a large chunk of my daily life attached to technology. I wake up courtesy of the alarm on my phone and as I turn it off I am greeted by the notifications that have reached me overnight. Fantastic, one of my friends on Instagram has posted for the first time in a while. Swipe that notification away. Oh, good, two of my favourite shoe stores have given me a special 15% discount on their fall selection. Delete, delete. I put my phone down and have a fleeting recollection of my clash with a ferocious lion in my dream last night. I try to delve into my memory to find the remnants of my battle, but all I find are two cheap pairs of shoes. Before the day has even begun technology has penetrated its way into my conscious thought. I would imagine that many of you find a similar beginning to the day, perhaps with less lions, but likely with the same bombardment of trivial information.
That's the cost of living in the modern world. Even if you try to cut down on screen time, most of you will find that your job requires you to spend many hours looking at a screen. Your appointments, communications, and the general organisation of your daily life are likely delegated to you by a small rectangular beacon of information. Technology makes life convenient and efficient. China, through Alibaba innovations, is the poster boy for the integration of technology into everyday life. Alibaba promotions show the 'ideal' daily life in which an individual uses their phone for every aspect of their day – getting from place to place with Didi Chuxing, reading news from Youku Tudou, shopping on one of their numerous online marketplaces, and so on. The growth of virtual reality makes this even more invasive. Online stores are being designed to replicate the interior of real stores, giving the feeling of walking around browsing products. Whether this level of assimilation reaches the Western world is yet to be seen, but unless there is significant pushback it appears that the impact of technology on everyday life will continue to grow.
This growing reliance on technology makes real human relationships even more important. Perhaps much of your interaction with a client or work associate happens through text or calls, with a rare face to face meeting along the way. A positive interaction with a client can lead to increased trust and bonding, thus taking the relationship to a new level. A client will often prefer working with an individual with whom they have good rapport, even if that person is less technically adept than the competition. Learning skills to make the most of face to face interactions is therefore paramount in the work climate of today.
Firstly, you should go into business meetings feeling relaxed and confident. In the lead up to a meeting try to remove any expectations that you may have set upon yourself. View every client interaction as an opportunity for success, but placing too much weight on that opportunity can cause anxiety. Nervousness can cause you to speak too quickly, fidget, lose concentration, sweat profusely, and leave an overall impression with the client that you are disorganised or even untrustworthy. You will personally have to test what works to quell your nerves. You could develop a pre-meeting routine that gets you in a confident mindset, or have a few pre-planned questions to fall back on in case you get caught up on your words.
Once in the meeting, begin with a firm handshake, an abundance of eye contact, and an upright body position. Whilst conversing consciously make an effort to slow down your speech to articulate yourself clearly. Mimic the client's body language and mannerisms to create a subconscious bond. While this may feel wooden at first, these techniques should all become natural with some practice. However, if it continues to feel unnatural, drop it. The most important aspect of your interaction is that you truly listen. You don't want to miss a subtle change in tone or choice of wording because you were too busy trying to cross your legs at the same time as the client.
Once you have overcome any issues of nervousness and mastered a few key techniques to boost your confidence, interactions should feel more genuine. That is the key to striking a positive business relationship. Yes, a firm handshake and upright body position may subtly influence a client's opinion of you, but the true success of your meeting will come from human connection. Don't try to refocus the meeting on business issues if the topic wanders, feel free to talk about fishing or dogs for twenty minutes if that's where the conversation leads. The true purpose of the meeting should be to feel like you've developed a stronger relationship with the individual across the table.
Now that technology has permeated our everyday life, these client interactions have become fewer and farther between. As a result, to be successful in maintaining business relationships, you must nail down the impression you make in these meetings. Ultimately, the impression you give will not come from your body language, level of eye contact, or firmness of handshake, but from the bond you make with another human being.
Dean Franklet is a third year economics and finance student at the University of Canterbury where he is President of the largest commerce society on campus. Spending his life in Texas and then New Zealand with a few other stops along, he gives a unique global viewpoint to portray in his writing.
Image: Pexels