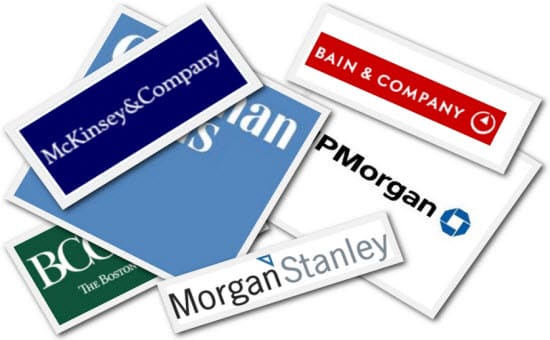 (Source: Google Images)
If you are a high achieving undergraduate or MBA student, then you are likely to be considering various highly paid and prestigious career options.
This post provides you with a high level comparison of management consulting and investment banking.
1. Nature of the job
Management consultants assist organisations by providing advice to address specific problems and to improve organisational performance.
Investment banks help companies raise money for various purposes including investment, acquisitions, and provision of working capital. They do this by selling stocks and bonds to public investors. Within an investment bank, the work is split into many roles including investment banking, sales and trading, equity research, risk management, operations, and technology.
People in the "investment banking" or "corporate finance" division typically help large organisations undertake merges and acquisitions. This is a front office role and normally the most prestigious and highest paid role at an investment bank.
People in the "sales and trading" division buy and sell financial products. Sales people communicate with investors to sell financial products. Traders buy and sell securities with the bank's money with the aim of making money for the bank.
People in "equity research" review listed companies and provide buy/sell recommendations. Investment banks employ "sell-side analysts" while investment funds employ "buy-side analysts". The research division will provide reports to the sales and trading division to inform trading activity and provide ideas to help sell financial products. The research division may also provide research to clients in the hope that they will execute trades through the bank's sales and trading division.
Risk management is a middle/front office role which assesses the market or credit risk assumed by the bank or its clients in a particular transaction. Prior to the 2008 financial crisis the views of the risk management division in most banks were overlooked in favor of the short term profit opportunities pursued by the investment banking division (this may or may not still be the case).
Investment banks also employ people in a range of back office roles including operations and technology.
2. Salary
For fresh graduates, the base salary for investment banking is typically similar to the base salary for management consulting. However, in good years bankers typically get an end of year bonus in the range of 50% to 100% of base salary. Consultants may also receive an end of year bonus, but it will be much smaller, around 10% of base salary.
Salaries will vary by country and over time.
Below are some average base salary and bonus figures for new analysts drawn from Glassdoor for 2014/2015.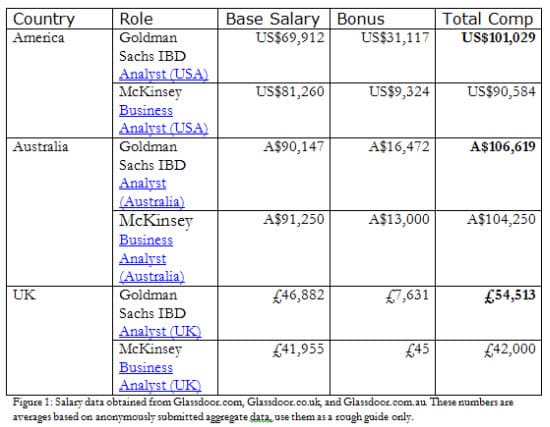 In general, adjusting for experience level, bankers will earn more than consultants.
While there are many factors to consider when charting your career direction, if money is a deciding factor for you, then banking may be the way to go.
3. Lifestyle
Hours: Banking work hours can average 10 to 18 hours per day, while consulting work hours average around 12 hours per day.
Work hours in both industries will vary depending on various factors including client demands, the eccentricities of your boss, and where you find yourself in the deal/project lifecycle.
Travel: Bankers sometimes do roadshows to drum up support from investors, but will typically spend 90% of their time in the office.
In stark contrast, it is normal for consultants to travel up to 80% of the time.
Work culture: Consulting firms typically have a professional and collegial atmosphere where an intense client focus is combined with networking and professional development opportunities.
In comparison, investment banks are competitive and hierarchical. It is not uncommon for bosses to yell at staff for mistakes, and colleagues are less likely to lend a helping hand since everyone is competing for the same bonus pool.
4. Exit Opportunities
Consulting offers many exit opportunities including industry, academia, government and entrepreneurship. Top consulting firms make a point of keeping current employees in touch with alumni, so there are likely to be many firm sponsored networking events.
Investment banking is an excellent starting point for future careers in the finance industry including private equity and hedge funds, although less helpful if you want to pursue non-finance related exit opportunities.
[For more information on the management consulting industry, download "The HUB's Guide to Management Consulting".]