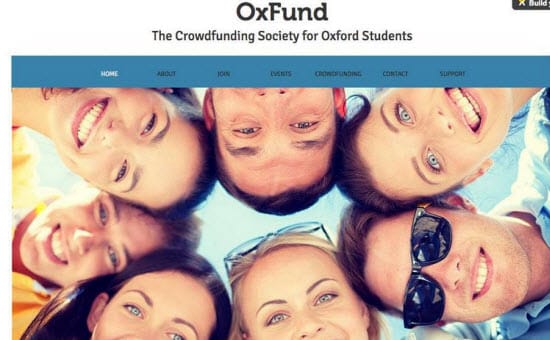 Crowdfunding is a growing trend that allows individuals, non-profits and start-ups to fund projects by raising money from the crowd using an online platform.
Last week I attended a crowdfunding discussion at the Oxford Launchpad with Jonathan May, CEO of Hubbub, and representatives from the development offices of various Oxford colleges.
Asking for donations from alumni is one of the things that Oxford's colleges do best, but crowdfunding offers a new and largely untested approach.
Pioneering new innovations is not necessarily something that Oxford is known for, and so it was interesting to attend an open discussion between Hubbub's co-founder and representatives from some of Oxford's colleges including Melissa Gemmer-Johnson who was representing my own college, Green Templeton.
Here are seven (7) insights that I picked up from the discussion:
Firstly, and probably most interestingly, although crowdfunding is nominally about raising money, one of the main benefits of crowdfunding, as seen by Oxford's Somerville College, is that it can enable the fundraiser to communicate with the donor in a more personalised way by providing specific and ongoing project updates. Before the advent of crowdfunding this kind of personal touch was only feasible for very large donors (think £1 million or more) but crowdfunding makes it possible for even the very smallest donations;
Hubbub's Jonathan May was quick to highlight that Hubbub, in contrast to some other crowdfunding platforms like Kickstarter, provides a number of key benefits including (a) a white-label platform that lets the fundraiser use their own branding and marketing materials, and (b) data analytics which allows the fundraiser to identify donors and track where referrals have come from in order to generate new leads;
The most effective way to raise funds, at least when it comes to talking with Oxford college alumni, is to tell them a story about what's currently happening in college rather than directly asking for money, the money tends to follow;
Repetition pays dividends. It is typical for a donor to hear about a project or fundraising campaign two or three times before they decide to donate;
Long fundraising campaigns are not necessarily the best; two or three weeks was suggested as an ideal length for a giving campaign.  Most money tends to be given at the beginning of a campaign (by the consistent givers) and at the end of a campaign as the pressure mounts and the laggards come on board just before the deadline;
Videos are an effective marketing tools; Hubbub's Jonathan May indicated that projects which have videos are twice as likely to be successful; and
Contributions lead to more contributions; Hubbub's Jonathan May indicated that projects that lack friends or family to provide early donations are significantly less likely to reach their ultimate donation targets.