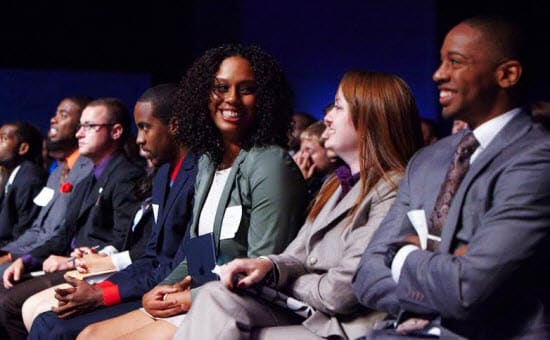 (Source: Cydcor)
This is a guest post from Archie Ward.
Take responsibility for getting the most value out of the next conference you attend.
By planning ahead and thinking strategically, a conference can generate sales, increase business, improve vendor relationships and initiate strategic partnerships. Going to a conference can renew excitement about the business, open up new avenues for the future and create lasting connections.
Five Reasons to Go to a Conference
There is the possibility of face time with people you might not normally get to meet
You can meet clients you may not have seen face to face
You could learn something
Catch up on the latest trends and get great new ideas
Evaluate potential vendors
Before the Conference
Most conferences have cocktail hours and dinners as well as exhibits, classes and keynote speakers.
Start by setting some goals for the conference. Plan to increase business, to initiate partnerships, work with vendors, or meet the competition. Try to be someone who's meeting a lot of people, and doing it well.
Study the conference brochure, ask the conference sponsors for a guest list and mark the events and classes it makes sense to attend by thinking about whether or not your vendors, stakeholders or customers might be present. Make a list of the clients, vendors, stakeholders or potential partners you want to see and call ahead to schedule a meal with them.
Use your planner to lay out your meetings, events and classes so you attend to all of your conference goals. Sometimes conversations are more valuable than classes. A one on one dinner may be better than the banquet. Choose wisely and plan for some down time to address opportunities that present themselves at the conference.
Prior to the conference, create any materials or electronic presentations that may be needed for the discussions you plan to have. Take business cards and prepare your elevator pitch. Make sure to dress the part. It is quite difficult to get new business from a potential client in a sweat suit unless you're dealing with Nike.
At the Conference
Upon arrival, hang out in the registration area. It is a great place to run into the people you want to see but couldn't book and those you didn't expect to meet. It's a great opportunity to start conversations and set up longer ones. Be armed with some information about your company's latest innovations or new services.
Watch name tags and look for opportunities. Get to sessions a few minutes early and leave a few minutes early to maximise the time you spend connecting to clients, potential clients, vendors or stake holders. Select high quality contacts who may offer value. Hang out in the host hotel and observe where others are gathering. Be available during the cocktail hour and seat yourself strategically at meals. There is plenty of time to hang out with your cronies, so seek out time to be with business people you haven't met.
If you make it to all the meals you set up, have good conversations with connections, and attend some of the higher quality classes, you have done well. You probably will have accomplished your goals.
After the Conference
While at the conference you should have been taking notes on all of the business people you met, and collecting their contact information. Hopefully you have set up some future calls and meetings with at least of few of them. Send notes to everyone you had contact with. In the note bring up a topic of interest that you discussed. Then send reminder notes to everyone you set up meetings with or plan to call to confirm the meetings and calls. Send notes to anyone you missed and set up a plan to get in touch in the near future.
If you are well-planned and armed with goals attending a professional conference can help you improve business, create relationships, check out the competition and evaluate vendors. They provide a great opportunity for new information and new relationships.
Archie Ward is a business consultant and social media strategist. Archie splits his time each year between Asia and Australia. While he is hard at work helping other people make their businesses successful, he hopes to launch his own by year end.