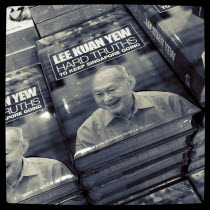 WE were saddened to learn of the passing of Lee Kuan Yew last Monday. Harry is recognised as the founding father of modern Singapore and, from the time he was sworn in as Prime Minister in 1959, played a central role in building the fledgling city state into an Asian Tiger economy.
Having spent a week in Singapore in late 2013 with an Oxford classmate and his family, your author witnessed firsthand the level of respect and admiration that many Singaporeans feel for Lee Kuan Yew.
Under his stewardship Singapore's GDP enjoyed a meteoric rise from less than US$450 per capita to more than US$55,000, lifting Singapore from third world to first in a single generation. Singapore was once a small colonial fishing village with limited natural resources and today its economy is the envy of the world.
In show of support to our Singaporean friends we posted some articles on Facebook and lamented the passing of a great man. To our surprise, one of our friends in London tersely responded "I guess we'll just gloss over the fact he was an autocrat as long as the economy did well."
A slightly unfriendly comment, we thought, given that Lee Kuan Yew had just recently passed away. However, over the course of last week it became increasingly clear that many people in the West hold mixed or unfavourable views of the way in which Lee Kuan Yew ran Singapore.
With Singapore suffering race riots in 1964, and being forced to leave Malaysia in 1965, Lee maintained stability by curtailing certain civil liberties: quotas on public housing to ensure racial integration, restrictions on inflammatory speech to limit racial tensions, and harsh penalties for lawbreaking extending even so far as to place a ban on chewing gum. His People's Action Party maintained a continuous and firm grip on power, in part thanks to Lee's strong arm tactics which included imprisoning political opponents and launching defamation suits to pacify the media.
On the one hand, Lee championed racial equality and instituted policies that helped income levels rise by two orders of magnitude; a remarkable achievement which roused the interest of China and many other governments who sent research teams to study Singapore as a model economy.
On the other hand, Lee used draconian laws and sometimes ruthless tactics to maintain a firm grip on power largely unopposed. Lee may have been a statesman, but he appears to have been an autocrat too.
How can we reconcile these two contrasting views of Lee Kuan Yew? And do we even need to? Is it a problem if Lee was both a statesman and an autocrat?
Well, depending on how you look at it, potentially yes.
A key part of the problem seems to be that Lee's economic success has been used by less scrupulous authoritarian regimes (Russia for example) in order to legitimise their strongman politics.  These regimes have used Lee as a central character in a slightly troubling counter narrative that conflicts with the Western ideal of liberal democracy; a form of government that protects the rights of the individual and supports fair elections, freedom of the press, separation of powers and the rule of law.
We will leave it for others to discuss at length the political ramifications of Lee Kuan Yew's legacy. However, given his success in building Singapore's economy, it might pay for us to consider his approach.  What lessons can business leaders learn from the life of Lee Kuan Yew?
There are many things that could be said, but we want to highlight just three leadership lessons that jump out at us.
Focus on others: Lee saw the opportunity to build Singapore as the chance of a lifetime. It appears to have been his constant focus. While many autocrats and democratically elected leaders pursue power for its own sake, and are largely self-regarding and self-serving, Lee's thoughts appear to have been always on Singapore. He believed in something larger than himself.
Work hard: Different leaders have different ideas about how to pursue prosperity, for example Russia appears to quite enjoy annexing land. A key factor which distinguished Lee's leadership was his belief in the need for hard work and self-reliance. He believed that everyone should be afforded an equal opportunity to do well regardless of the person's race or religion.
Think long term but be pragmatic: Lee had a long term vision for Singapore and combined this with a pragmatic approach to solving problems and getting things done. He had a clear understanding of the geostrategic landscape and an ability to communicate with and gain the cooperation of more powerful players like America and China. He looked internationally to find solutions that could be applied in Singapore, and took active steps to recruit Singapore's best and brightest students to work for his government.
Below is a letter which expresses British PM David Cameron's sentiments on the passing of Lee Kuan Yew: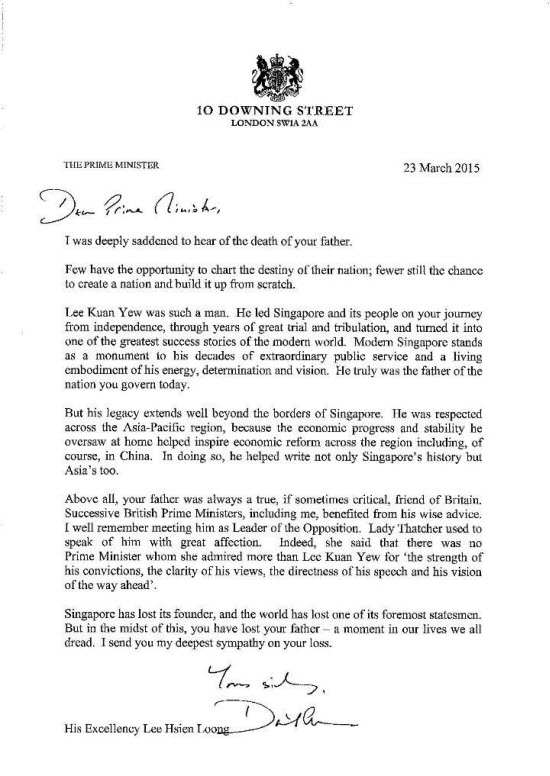 (Image sources: Flickr and Straits Times)