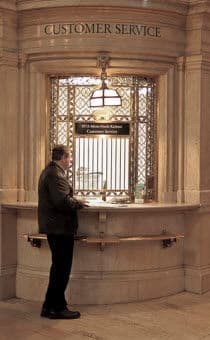 Social Customer Service allows customers to ask questions, and have them answered by a staff member or another customer
AT THE CORE of every successful business are a few key ingredients, and customer service is one of them.
Customer service can be used to delight customers, boost customer retention and generate positive word of mouth.
For most people social media like Facebook and Twitter are mere playthings. But is it possible that social media could be used to provide effective customer service?
Below we explain Social Customer Service and highlight its benefits and potential downsides. You may want to consider deploying Social Customer Service in your business.
Social Customer Service Explained
To understand what we mean by 'social customer service', think about traditional channels for customer support: email, telephone, and face-to-face in store. Some of these are more effective than others, but all of them involve a question/response type scenario and are typically limited by the knowledge of the staff member who receives the query.
Social customer service allows you to open everything up using a social platform like Telligent or Jive Software. By using a Social Customer Service platform you enable customers to ask questions, and have them answered by a staff member or another customer.
Social Customer Service platforms can be customised, which means you can create 'groups' focusing on specific products or themes. For example, if your business has a new product coming out, then you could create a dedicated group where customers and staff can discuss any queries, qualms or questions that might come up in relation to the new product.
Benefits of Social Customer Service
Social customer service can provide your business with a number of benefits:
Customer retention; research suggests that 70% of users helped via social customer service return as a customer in the future;
Stronger sense of community where customers have the ability to help other customers;
Improved response times;
More collaborative responses making for better responses (two heads are better than one);
Cost-savings associated with reduced burden on existing customer service personnel; and
Better visibility for customer queries via notifications, @tagging and #tagging.
Downsides of Social Customer Service
Social customer service also comes with a number of potential drawbacks:
Setup and installation costs can be prohibitive for some businesses;
Reduction in direct or personalised support may annoy some customers; and
Issues could be solved incorrectly by other customers, which might paradoxically lead to increased support costs.
The reality is that adopting a social platform can expose your business to various risks. The drawbacks highlighted above are not an exhaustive list, and you may be able to think of others which apply to your business.
Protecting Yourself from Risk
Risk reduction is an important issue when it comes to running a business.
If you're worried about risk, then you can always explore the types of business insurance which are available (there are a tonne of business insurance products out there).
While having appropriate insurance cover is important, it is unlikely to provide sufficient protection from risk. You have to be comfortable that using a social platform will work with your business model. For example, if your business serves high-end clients who expect dedicated and personalised support, then introducing a Social Customer Service platform may not be appropriate.
Your best bet is to properly prepare long before you implement any big change. Switching to a Social Customer Service platform is a paradigm shift – and you need to be ready.