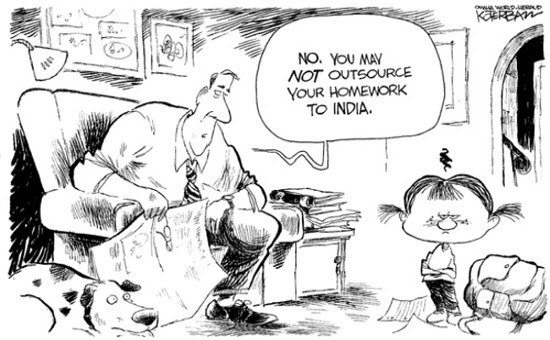 (Source: Flickr)
The outsourcing matrix may prove useful in the consulting case interview, either as a standalone framework or as part of a larger profitability framework.
With the view to reducing costs, there are three questions that a firm would do well to consider:
How long will it take to reduce major cost drivers?
Are the activities strategically important?
To what extent do the activities contribute to operational performance?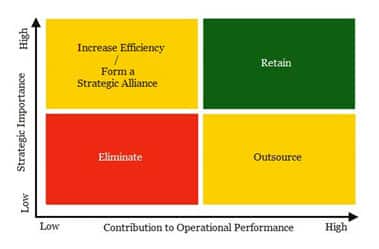 A company will want to eliminate or outsource costly activities that have low strategic importance. If the activity has a low contribution to operational performance it can be eliminated, and if it has a high contribution to operational performance it should be outsourced.
A company will want to retain control of activities that have high strategic importance. This can be done by pursuing business as usual or by forming a strategic alliance or increasing efficiency.
Common cost reduction techniques include:
1. Procurement
Consolidate procurement or renegotiate supply contracts.
2. HR Management
Reduce labour costs through decreasing salaries, training, overtime, benefits and healthcare, introducing employee stock ownership, and right sizing.
3. Technology Development
Use IT and digital technology to reduce communication and organisational costs.
Employ more advanced production technology.
4. Logistics
Partner with distribution companies (e.g. FedEx).
5. Operations
Outsource manufacturing to a lower cost jurisdiction (e.g. China/India/other).
Improve the utilisation rate of plant, property and equipment.
Relocate headquarters to lower cost city, region or country.
6. Finance
Reduce working capital including inventory and accounts receivable.
Refinance outstanding debt.
Divest non-core assets.
[For more information on consulting interviews, please download "The HUB's Guide to Consulting Interviews".]